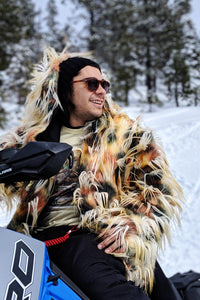 A Mac Daddy VELU is a Burning Man essential. 
Stay warm all night and instead of carrying your coat when the temperature rises, simply zip off the sleeves to shed some heat without shedding your style! 
High Tech
With microFLEX™ technology derived from recycled plastics. Designed to insulate without sweating. Breathable, warm, and softer than a stick of butter.
Reversible
Hood Locks
Wrist Locks
Removable Sleeves
Vest
Boot Covers
Machine Washable.
Cruelty-Free Faux Fur
Earplugs on the drawstrings
Secret Stash Pocket
microFLEX™ Recycled Plastic Liner (breathable)
Included festival-proof backpack
Change it up
Reverse it and steal the show.
Fur cuffs
Fur collar
Furry boot covers
Dress it up — take it easy
Dress it down — go hard
All jacket & crop orders come pre-packaged in a custom festival-proof backpack.
Backpack included
New regulations? No sweat. Breeze through the lines this festival season with a security approved see-through backpack. Your jacket comes packaged in it. Sound activated lights sold separately.
Lighting has 3 modes:
Blink
Music mode
Ear safety mode
When ear safety mode is activated the backpack will only light up when audio ranges reach 85 decibels.